The Closet Diary (Pt. 1)
Essentially this is what my blog is replacing - A closet diary. If you're new here, let me just share that my intention to start this blog was never to try and dictate to anyone how they should live THEIR lives, or write a How-To on curating an ethical or sustainable closet. I could never get through a self-help book so I didn't want to subject my readers to anything similar. If you follow me on Pinterest, you know there are way too many "How To's" out there by other bloggers and I'm not afraid to share them for those who prefer that approach- Therefore I didn't feel I was missing out and I definitely didn't feel like a 10-step guide on "Finding Katnis" was truly needed. After all, this is about a personal journey, right? Besides I spent more time allowing books to dictate how I should arrange all of my house plants (count is at 23 houseplants at the moment) than how to dress myself anyway.
Well, that was until I received a few inquiries from fashionista friends looking for some guidance on how to get started on shopping consciously and/or narrow down to a more thoughtful closet, and it dawned on me that while the guides are already out there, many of them are missing that personal touch from a regular, shmegular, girl (from The Bronx) like me. So, here it goes:
How-To Clean out your Closet
First, toss everything out and start fresh, right? Imagine you're a vengeful lover with suspicion that your partner has done you wrong, you toss all of his belonging out of a window out of spite deeming them useless just to realize you've over-reacted impulsively. Do not do this with your clothes, okay?
It seems every guide begins with this idea that you should get rid of all of the clothing you no longer wear or fit into, by reselling or donating, and the truth is that the message can be shared a little irresponsibly. This type of cycle encourages you to think of your clothing as disposable, and we're trying to get you to fall madly in love with clothing you can keep around for a while. According to the Environmental Protection Agency, Americans dumped out around 15.1 million tons worth of textile waste every year.
That being a said, when you're getting started, you DO want to do a little purging, the same way you would with the potential suitors you're "talking to" when you're trying to start something serious with "the one". You have to weigh out your options, and place them into buckets.
Set Aside the Idealistic clothing: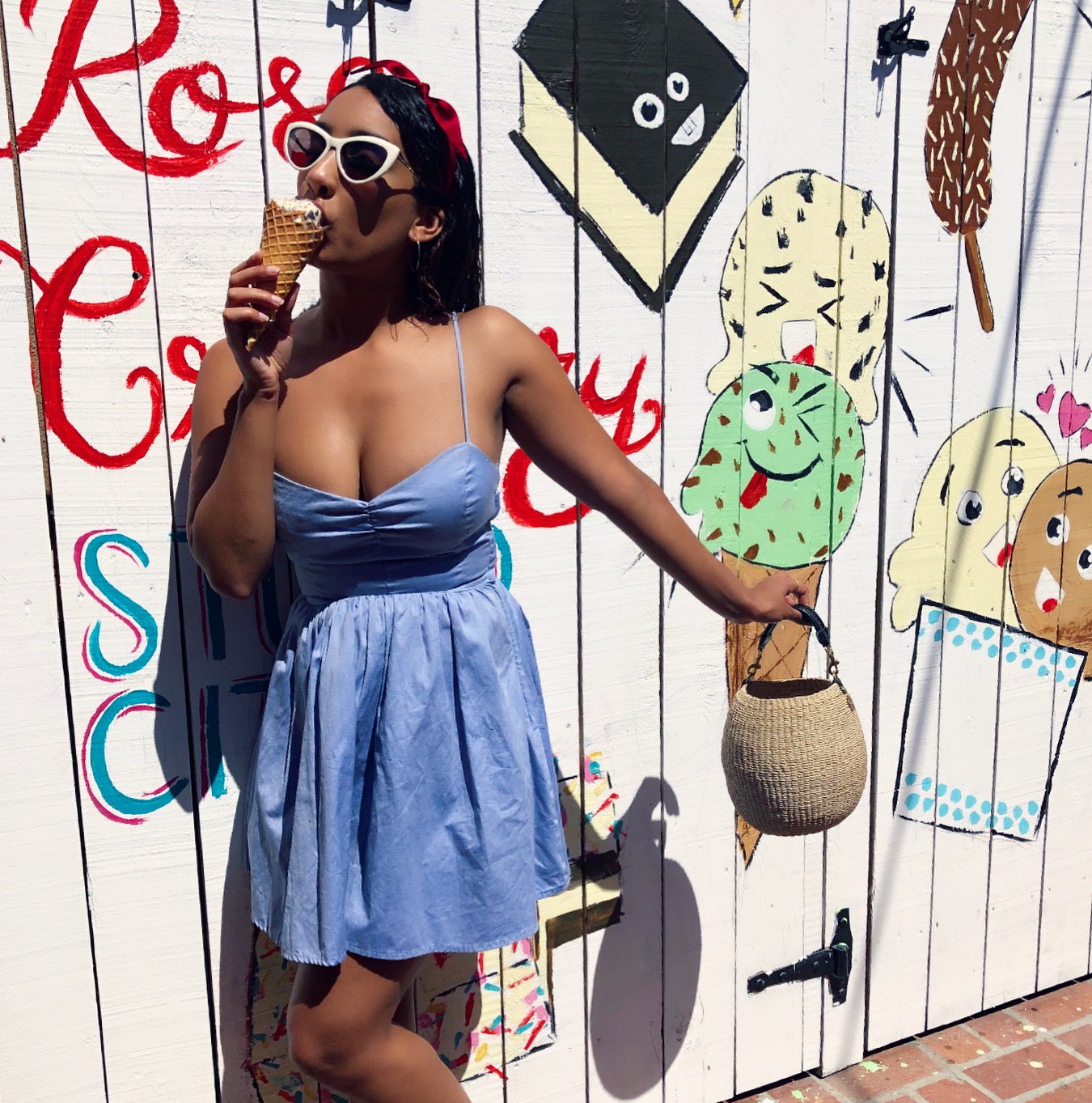 This means all the things you've purchased because some day you might fit into them. For me, that was all of the clothing I'd wish a curvier me would be able to squeeze into some day after binge eating sweet potatoes and daily squats.... I'm curvier now and they still don't work. This lead to dozens of dresses and skirts and pants that only made it out of my closet once or twice before they were too tight to zip or breathe in.
These are good candidates for a good old fashion re-sale. Keep in mind many thrift stores are overflowing with submissions so they may be selective, but reselling your clothes is a classic way to put them back into circulation and help them end up in a home where they will (hopefully) be loved. If you're low on cash this can also help you make a couple dollars. Look for a small local thrift shop, or chains such as Crossroads or Buffalo Exchange. You can also find re-sell shops online where you can post these goodies and ship them directly to the buyers.
Another cool way to re-circulate these pieces is to host your very own clothing swap party. Invite your best gal pals, and fashion forward friends over and ask them to bring their lightly used or new clothing that they're hoping to relocate and help them with their closet cleanse along the way!
Set Aside the Damaged Goods:
We all have one or more pieces in our closet that lived a shorter life than we would have hoped. An unstitched hem here, a broken strap, or holes that need to be patched. You can also toss in this pile all of the clothing you'd swore you'd get tailored but never came around to. Now is your chance.
First - Identify how and why the item was damaged. If it was due to a quality issue on the materials used or poor construction, it probably isn't worth repairing and it definitely isn't worth keeping around taking space in your closet. Keep a mental or physical note to look out for signs of pieces that were constructed similarly and try to avoid purchasing in the future. Some easy things to look out for are:
Plastic Zippers - These are more difficult to zip up and often jam

Buttons - Check for spares sewn into the care tag, and avoid purchasing items with buttons that are not securely sewn in

Flimsy Seams - If you notice loose threads, or very light stitching holding up the

garment it wasn't made to last.

Fabric Content - Natural fibers are almost always the better choice
I once purchased a spaghetti strap dress from one of those trendy instagram sites that sells dresses for less than a cocktail at most NYC bars, and during my first wear on a tropical vacation I ended up with my breast exposed after one of the straps detached... First wear. Never again.
Second - Find the quality pieces that seem like one-offs by a trusted brand. Here is a curve ball, reach out to the brand and ask if they have a repair program for damaged items? They might offer to repair the item for free, or offer a replacement. Either way, reaching out to the company that manufactured the article of clothing helps provide them with vital feedback on the lifespan of their creations and can help them improve production.
Third- Ask yourself this: If the piece was in mint condition, would you wear it? I mainly identified this with clothing that weren't quite the perfect fit, but had potential to be key pieces in my closet. Well, this is your time to dust off those sewing skills and pencil in some project time, or bring them over to your local tailor. No excuses - Just pick out a day when you have a spare hour or two depending on how many piece you end up needing to mend and actually get these pieces mended. The truth is that if you schedule this in as a project as opposed to planning to "get to it when you get to it" you're more likely to prioritize tailoring these pieces. Pin notes on them near the area that needs repairing so your tailor visit is more of a breeze.
Its important to keep a log of the things you'll have repaired - Often times this will give you an idea of fit issues you're having and haven't quiet identified. For examples, I was having to mend the seams of a lot of my tops either under my arms or sides, or straps, which led me to the conclusion that I was actually wearing shirts that were too tight for my body!
Now what do you do with the items that are not quite repairable? Assess what you can repurpose. You can turn old t-shirts into wash cloths, or old knitted sweaters can be cut and re-tied to use as pot holders or hanging planters. Turn old denim into quilts. Get creative! We want you to cleanse some of the necessary things from your closet, but they might have good use in other parts of your home, and the longer we keep them away from a landfill the better. For other things, donate responsibly.
I'm hoping this is a good start to getting your closet a little less cluttered. Part 2 is not far behind, and there I'll go into how to organize the styles you decided to keep, as well as some tips on how to get to know your closet a little better. In the meantime I'm scheduling some much needed quality time with my sewing machine mending and altering clothing I love.