Sustainably Active
Spring is finally here, summer will be here in no time, and you've probably already forgotten about that new year resolution to be more active. Okay, okay, so while you've been staying true to your goal, I have definitely slacked off. I can think of about 99 reasons why getting started on a workout routine that is consistent has been tough, but I didn't want apparel to be one. So I ventured into foreign territory and began my research on sustainable active wear.
First I had to identify what kind of work out I would actually feel inclined to keep up with and decided on hiking, yoga, and barre. Then I put together a list of essential workout gear I would need - Yoga pants or leggings, low to medium impact sports bras, running shoes, and breathable tanks or tees - that are versatile enough to use no matter what kind of work out I'm feeling that day. For the purpose of narrowing down, I wanted to share my finds for the first two.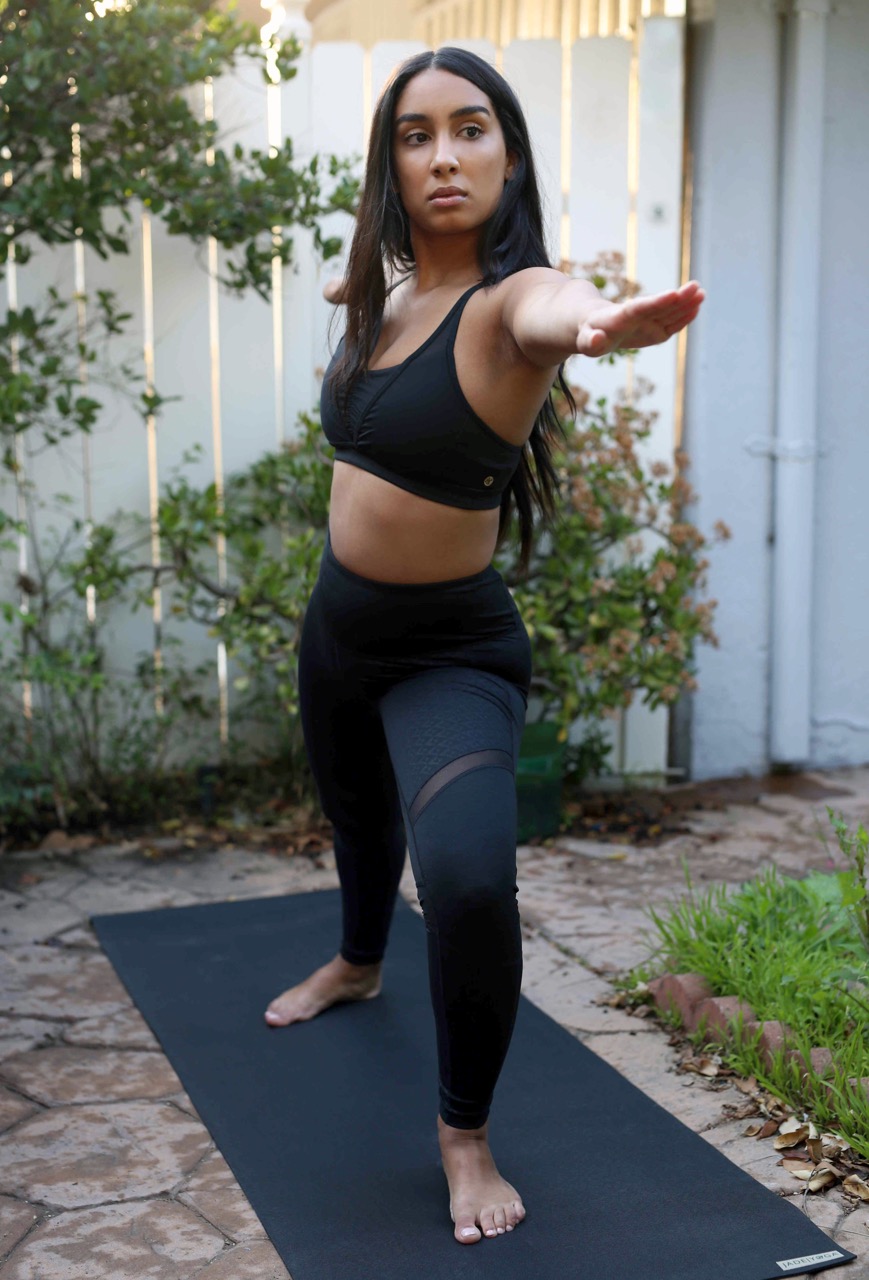 I discovered Manduka while searching for eco-friendly yoga mats. While browsing their selection I quickly became distracted by their yoga apparel and was pleasantly surprised to see that like their mats, their leggings, tanks, and sports bras were all made from sustainably sourced materials such as recycled polyester, organic cotton, and plant-based fabrics. Their style is refreshingly modern, and not at all what we've been programed to think sustainable yoga wear should look like. I definitely do not feel left out of the "Ivy Park" craze thanks to my Racer leggings with mesh for ventilation and the subtle embossed print on the fabric that offers a slight shimmer in the light. Here I am pretending I know a thing or two about yoga poses.
The Illusionist bra is meant to feel light as a feather, and ironically I felt the most supported in this one. The straps are made from a power mesh making this sports bra breathable, and the criss-cross detail is an added aesthetic bonus for this fashionista. I wore this set to my first ever barre class just last week and received so many compliments I'm considering buying a second set .
Save $25 Off Orders $100+ with Free Shippng using my code 25OFF100 at Manduka.com!
About 2 years ago a friend of mine introduced me to the "Free Leggings brand". Since at the time I was super budget conscious I couldn't pass up the opportunity to order a pair of leggings while only paying for the shipping fee. Now, you know a company is super confident about their product if they're willing to offer it free of charge prior to launching their official website and collection. I'm so glad they did! Up until then, I was devoted to Athleta, Lulu Lemon, and Nike gear only. One pair of leggings later I was convinced that Girlfriend collective was the move and I couldn't wait to get my hands on a matching bra + leggings set.
So what makes this brand so special if not just the freebie? First off, the material they use is sheer-proof, so shy bums are welcome. Speaking of bums, they'll make your money maker look amazing pre and post squats, and the leggings offer the perfect amount of compression, making them versatile enough for yoga and weight training alike.
But here is the most impressive part about them - They're made out of recycled plastic bottles.Yup, those super wasteful bottles that usually end up in landfills were transformed into the polyester for the set pictured to the right. The blend is ideal for muscle recovery after an intense workout, and luckily for me and my ever changing curves, it stretches as you move! Using recycled plastic bottles to create active wear is a great alternative to virgin polyester, the microfiber rich synthetic fabric used by other brands. Not only are we delaying microfibers from ending up in our ocean, we're also repurposing plastic which is a win win.
Naturally, after receiving my first free pair, I was eager to get myself a set in one of their beautifully curated colors. Their collection of leggings, shorts, bras, and tops, are all made in their core colors. For my set, I chose the high-rise 3/4 leggings, and and monroe bra in indigo.
My verdict on the Monroe bra? I probably wouldn't run a marathon in it, but its perfect for light work outs, and hikes. The zipper makes it as convenient to take off as it is to put on, although I must admit this is the first sports bra I've owned that I could potentially live in.
It is cute enough to wear out as a crop top too. Coming to a musical festival near you....
I in-listed the help of facebook for this one. After asking in various fb groups focused on sustainability and filtering through their nightmare inducing tie-dye suggestions, I was able to come across this hidden gem. You see, if I'm working out in order to try to feel and look my best both physically and "spiritually" then I need apparel that will make it look like its possible. Ena apparel's line does just that.
Their collection is centered around basics that are easy to wear daily. Here I paired their Laila Slash bra top with my first Girlfriend leggings.
Even after the recommendation from a fellow slow fashion acquaintance, I had a hard time finding sufficient information on the brand, so I did what any conscious consumer should - I asked them directly. Prior to placing my order I learned that Ena apparel was a small, women owned company, manufacturing all of their pieces in Chicago. The pieces are cut from sample materials in small batches shortening their carbon footprint.
Although I feel the brand has some steps to take towards sustainability, I'm happy to be able to support this American company.
I'm hoping this list will continue to grow as my waist begins to shrink, and my core stregnthens, but in the meantime I find my active wardrobe to be pretty close to solid. Whether you dress in these threads just to make a weekly pizza run, or you call the gym your second home, I want to hear all about the active brands you love in the comments below.